Two Amsers won gold medals at the International Astronomy and Astrophysics Olympiad
The Department of Education and Training of Hanoi recently announced that students representing Vietnam to participate in the International Olympiad of Astronomy and Astrophysics (IOAA) went home with 5 medals.
2 Gold medals, 1 Silver medal and 2 Bronze medals were secured by Hanoi students, adding up to a total of 5
This is the highest achievement in all of Vietnamese students' attempts at the International Olympiad of Astronomy and Astrophysics.
To be more specific, every student who triumphed in the contest are 12 graders from Physics 1, Hanoi - Amsterdam High School for the Gifted:
1. Nguyen Khanh Tam - Gold Medal;
2. Tran Dinh Dung - Gold Medal;
3. Nguyen Manh Duc - Silver Medal;
4. Le Duc An - Bronze medal;
5. Dinh Tran Hai Chien - Bronze medal.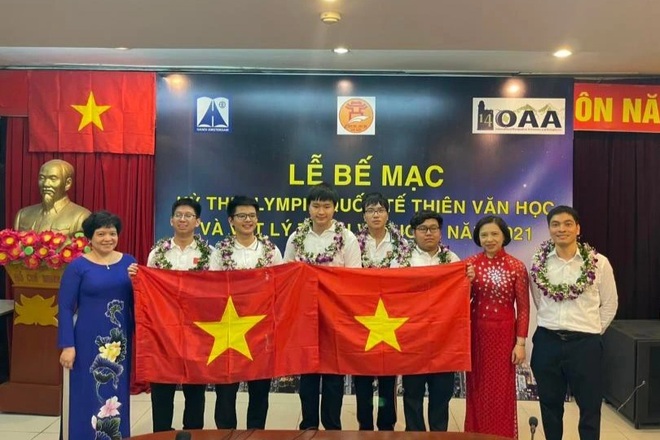 Principal of the Hanoi - Amsterdam High School (leftmost) and awarded students
The IOAA is an annual contest for high school students around the world, design to recognize the huge role Astronomy and Astrophysics play in our lives.
The competition was first held in Thailand in 2007. It was run by an international committee with members elected from organizations around the world.
At the 10th IOAA Contest in India (2016), on the very first year of participation, the selected team of Hanoi representing Vietnam achieved 1 Silver medal and 4 Consolation prizes. With this achievement, the Ministry of Education and Training continues to entrust Department of Education of Hanoi with their selection for teams representing Vietnam in the next IOAA Contests.
Due to the prevalence of the Covid-19 pandemic, this year's IOAA was held online from November 14 to November 21 with the participation of students from 50 countries and regions - a massive scale never seen before in previous competitions.
According to Dan Tri
Translator: Nguyen Duy Nhat Huy - English 2023