Principal of Hanoi - Amsterdam High School for the Gifted delivered a touching speech for the new school year
GD&TĐ - In her speech for the Open Day of the new school year, Mrs. Le Thi Oanh - Principal of Hanoi - Amsterdam High School for the Gifted had not only encouraged students to "Wake up and head for school with ambitions" but also given parents and teachers her earnest remarks on how to establish true values of knowledge for the future generations.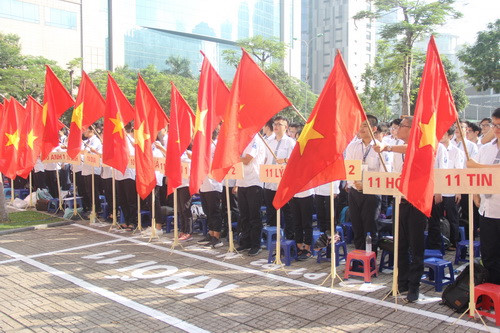 Mrs. Le Thi Oanh stated: "The school year of 2018 - 2019 presents new challenges, requiring determination to innovate conventional teaching methods and modernize academic environment. Educating future generations is an important mission of teachers.
Together, we shall innovate to fulfill the mission that our people have entrusted us with and further complement the development of VIetnamese education..
We shall guide students to self-study and teach them to learn with profundity, comprehension and passion for knowledge. Open every possibility for them to lead life with independence and goodwill.
We shall guide students to look further into life, but set their heart on human connections. Open every opportunity for them to understand humanity, to see the value of work and science breakthroughs, of determination and perseverance. Along with parents, we shall encourage them to achieve their goals and show willingness to fulfill their ambitions and reach the milestone of success in the future.
As an educator, we shall help students become those with actual talent, who can understand the reality to further develop a prosperous Vietnam. However limited our ability might be, we shall join hands and faith to complete our sole mission for the future generations of Vietnam. Pressure is inevitable, but challenges are the best opportunities for educators ourselves to affirm our academic ability.
Mrs. Le Thi Oanh - Party Committee Secretary, Principal delivering her speech at the opening ceremony
My dear students! Your effort to attain higher achievements in studying shows your responsibility to the pride and faith of the people of Hanoi. Never stop acquiring knowledge and practicing moral values with more determination. You shall lead a healthy life, study voraciously, be kind towards your grandparents, parents, teachers and peers.
Learn to help and cherish your friends, share difficulties, joy and love with each other. Learn to love and treasure knowledge to pursue your dream major and occupation.
Appreciate the lives of yours as well as others. Practice with determination to have enough willpower to reach for success..
Be energetic for the new school year. We all aspire for knowledge to be the driving force behind your going to school everyday. Wake up and head for school with ambitions.
Be daring to experiment with latest ideas and carry out your bold ambitions with scientific innovations. Success means anything but luck, only effort can bring about success.
Perform your best in this new school year and further on to make our world a better place. You are the ones establishing you future as well as that of Vietnam - our beloved nation.
Hold the future in your hands and build a modernized, developed Ha Noi and Vietnam in peace as our President Ho Chi Minh had long aspired. The best things in life are here for you to grasp in this new school year. We entrust you with all the faith to live up to the name of Hanoi - Amsterdam High School for the Gifted.
Students listening attentively to the speech of Mrs. Le Thi Oanh
Our honorable parents! Along with the school, let's instill the true value of knowledge, morality and culture into our children. To each parent, be an educator, make family a safe haven for our children to be educated and mature in happiness.
Create more opportunity for our children to live and follow the moral values of humanity. We must educate them to sympathize, love, enjoy themselves, bring joy to others and appreciate the life they get to lead.
Our offspring must become Vietnamese citizens who have pride, self respect and awareness of conservation of traditional values. They must also inherit and further develop the qualities of humanity with their logic, must live with a view to goodwill and patriotism
That is the only meaningful present our offspring can present to Ha Noi, to their parents and show earnest gratitude, respect to their teachers, school and the contribution of the entire society...."
Translated by Tran Nguyen Hong Minh - English 1 1720