Talented Gen Z girl: A 17-year-old national dancesport grandmaster
"Young people, great talent", but for that "talent" to bear tangible achievements, it requires a long and arduous training process. Nguyễn Thùy Linh - Amser 17-20 - the girl who became a national dancesport grandmaster at only the age of 17 has been a bright example for the saying "practice makes perfect"
Possessing a thin body but also a spirit of perseverance, this 17-year-old girl has surpassed countless "heavy hitters" in dancesport, bringing much glory back to her home country.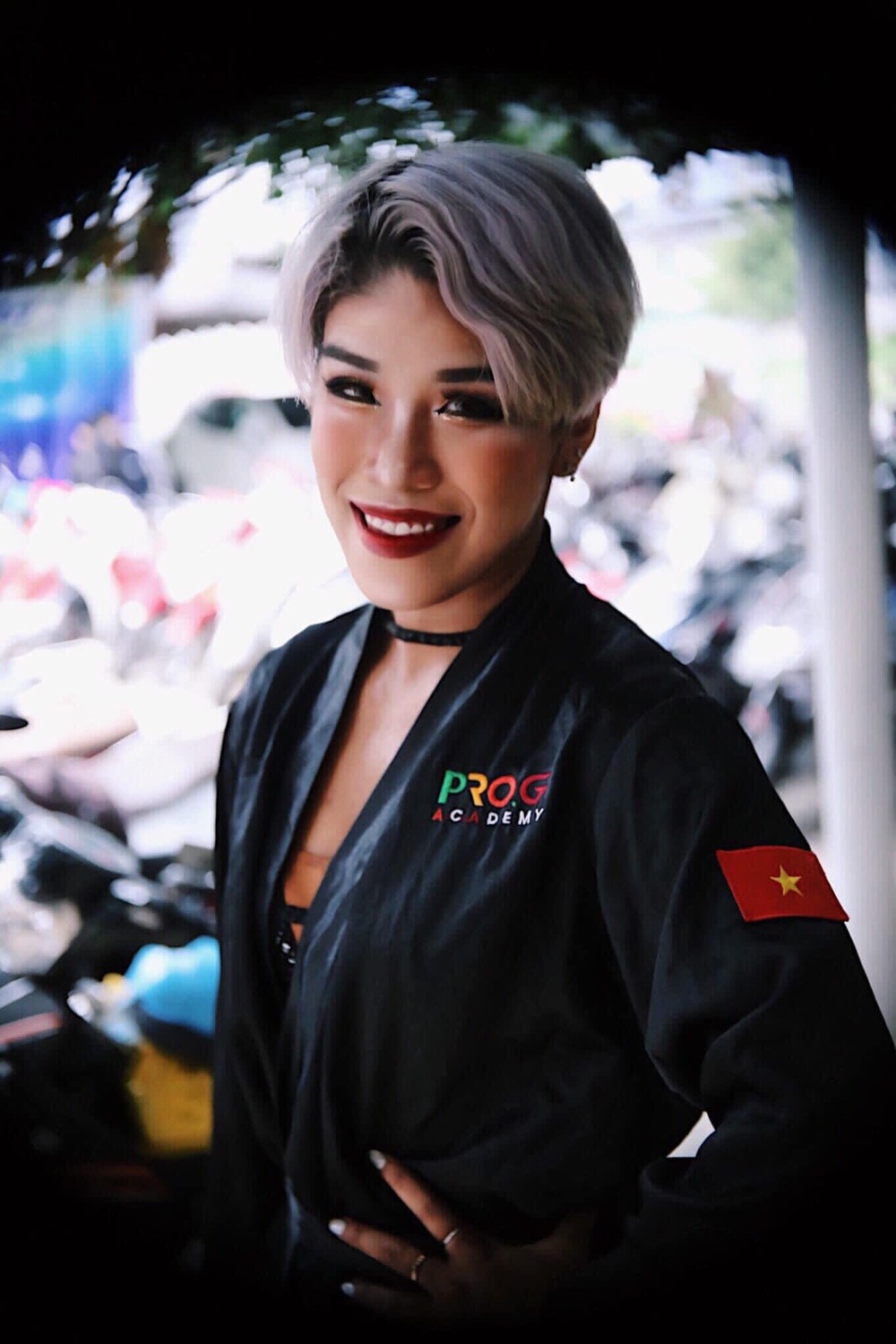 Nguyễn Thùy Linh - the "golden" girl in the dancesport community (Picture: Self-provided)
A "basket" of medals from sweat and tears
Taking up dancesport at the age of 8, Linh couldn't have anticipated reaching far and beyond to earn so many achievements like the present. Once a shy 8-year old, learning dancing just to become more energetic, dancesport has become a part of her life, a routine, hobby and passion too.
Some of the most honorable awards given to Thùy Linh include: Winner of Asia solo cha-cha dancing in 2018, gold for 5 young dances at South Korea, 3-year winner of solo Rumba dances, 4-year winner of solo Paso dancing, winner of National Youth 2020, etc. notably a national grandmaster since 2019.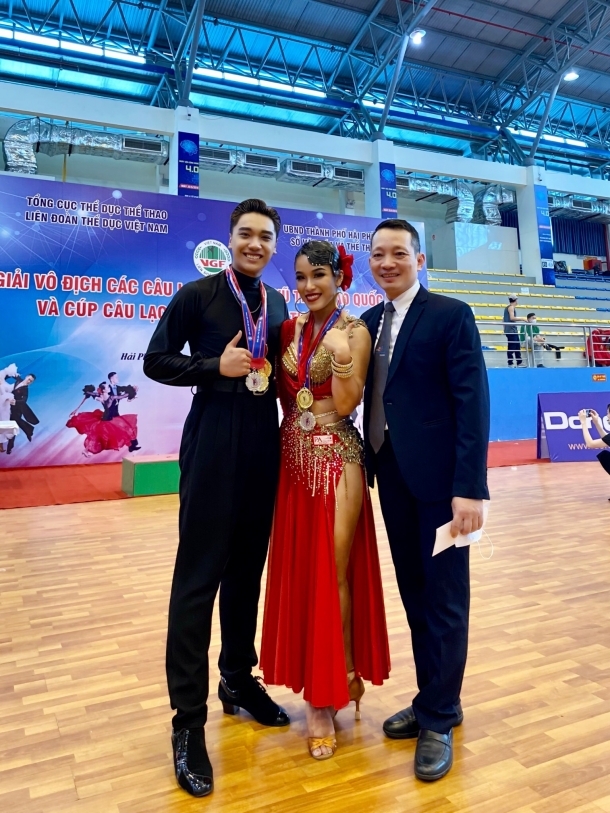 Thùy Linh gained the title of grandmaster at only the age of 17 (Picture: Self-provided)
To maintain a work-passion balance has never been easy, especially with this 2002 girl. To do this, Linh revealed to Yan: "To keep everything in check, I often try to finish homework at school to practice at night, if not then I will stay up late to study or make use of breaks between sessions".
Remarked as having no artistic talents, and not having a family tradition of dancing, like a boat rushing against the current, this Law school student has constantly practiced to prove her worth to all those caring for her, so that they know "she can do it".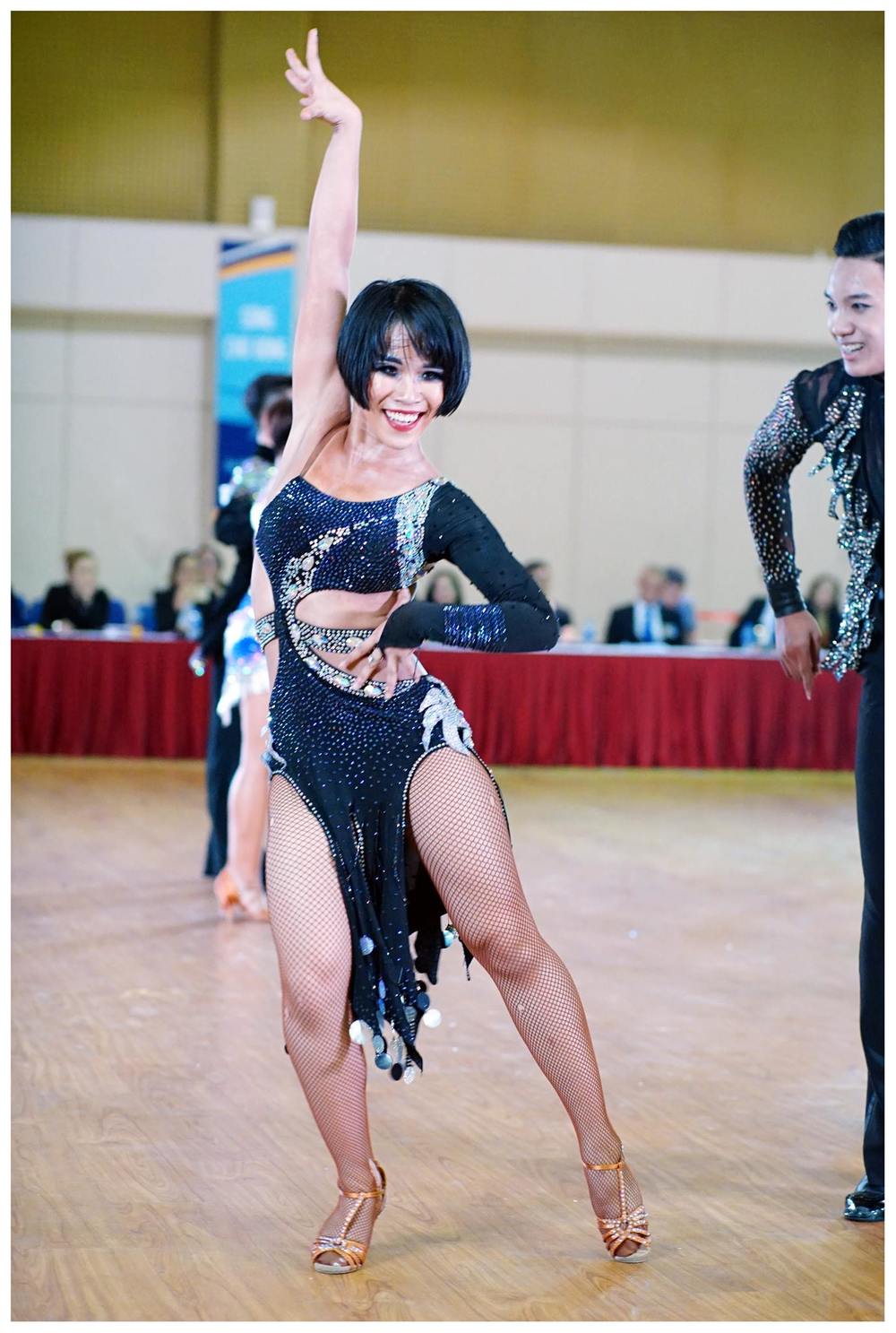 Taking advantage of breaktime, the girl does her homework so as not to miss out on studying (Picture: Facebook Nguyễn Thùy Linh)
Recalling the struggle during her practice, Linh disclosed: "The most difficult thing has been keeping a balance between dancing and life. Not only that, Being judged as devoid of artistic talent and an ideal body type for dancing, I frequently went through strenuous training and double the efforts as those with innate talent. Knowing the moves may not translate to proper execution so it took longer than a normal person would.
In the training process, injuries were inevitable. Almost all practicing sessions left my body in complete utter pain. After each day, I continued my practice so gradually got used to it, and my stamina definitely increased with it."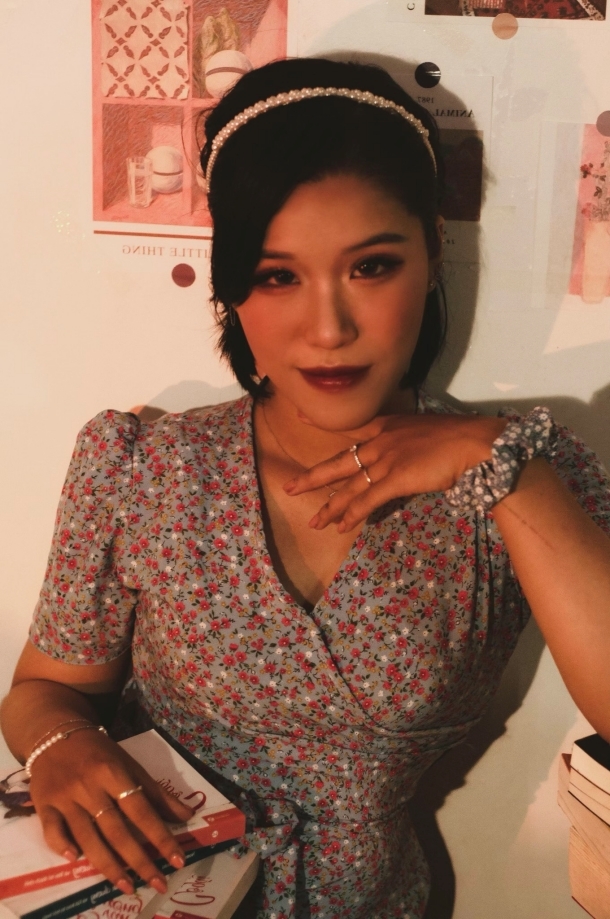 A Law school student and the passion to go against family traditions (Picture: Self-provided)
Having competed for all kinds of awards since age 8, the harsh, competitive environment at Taipei's WDSF Championship award must have made a long-lasting impact on this 2002 girl. Competing in an unfamiliar country, going through long practice periods and withstanding much pressure, tears of joy filled her when her name appeared at the top of the list.
At an age too young, pressure can be huge, and it was the case with Thùy Linh too. Whenever worried and stressed, she would have small talks with her friends. Competing in foreign contests has also built in her endurance, experience and lessons to apply to national competitions. "As a young couple, we are proud to be among the top 3 with Vietnam's 2 veteran dancers to be promoted as grandmasters" - the student proudly exclaimed.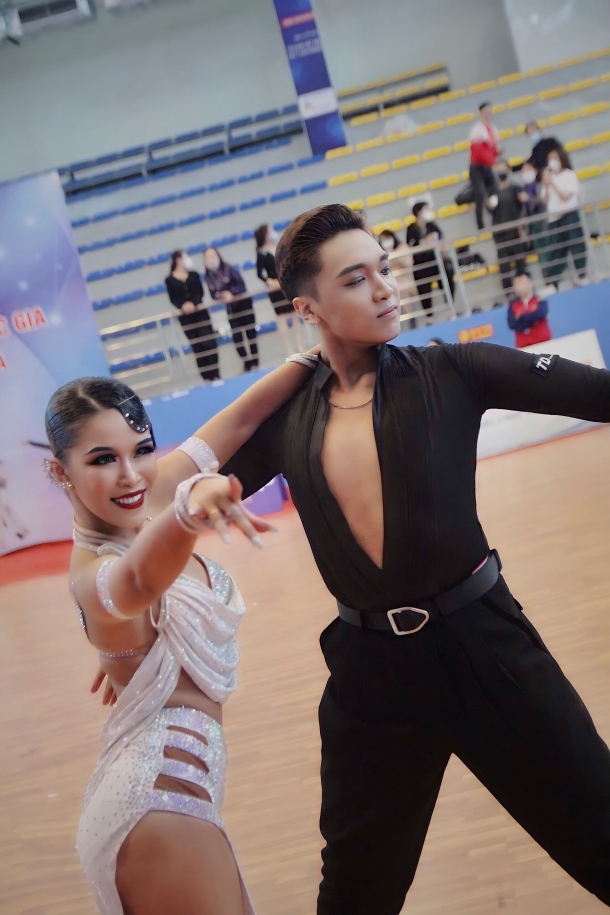 During pressure, Linh would shoot the breeze with her friends (Picture: Self-provided)
Behind the success on stage requires a strong back support. Even though the girl went against family traditions, both parents encouraged Linh to develop herself through her artistic path.
The grandmaster disclosed: "During this journey, I was lucky to have the support from both of my parents who are soldiers, especially my mom. She was the one who introduced and guided me to the path of dancing, always following my every step in every match. I was also lucky to meet dedicated and patient coaches molding me like ms. Chu Quỳnh Trang and mr. Trịnh Hoàng Khải. Even my friends were always cheering and helping me compete even when I missed my lessons.".
Studying, dancing and acing 9 colleges
Studying in an international, excellent environment comes with pressure but also motivation for Linh to continue surpassing her yesterday version. Talking about the school she used to study at, the young 4-year winner of solo Paso dance said: "To me, studying in a magnet school will guide you through your own abilities more clearly. Plus, we got to join multiple extracurricular and life skills activities.
In an environment where everyone is excellent, I had to strive even harder than normal. Luckily, my family has never pressured me, always letting me self-study and providing me with rocky support."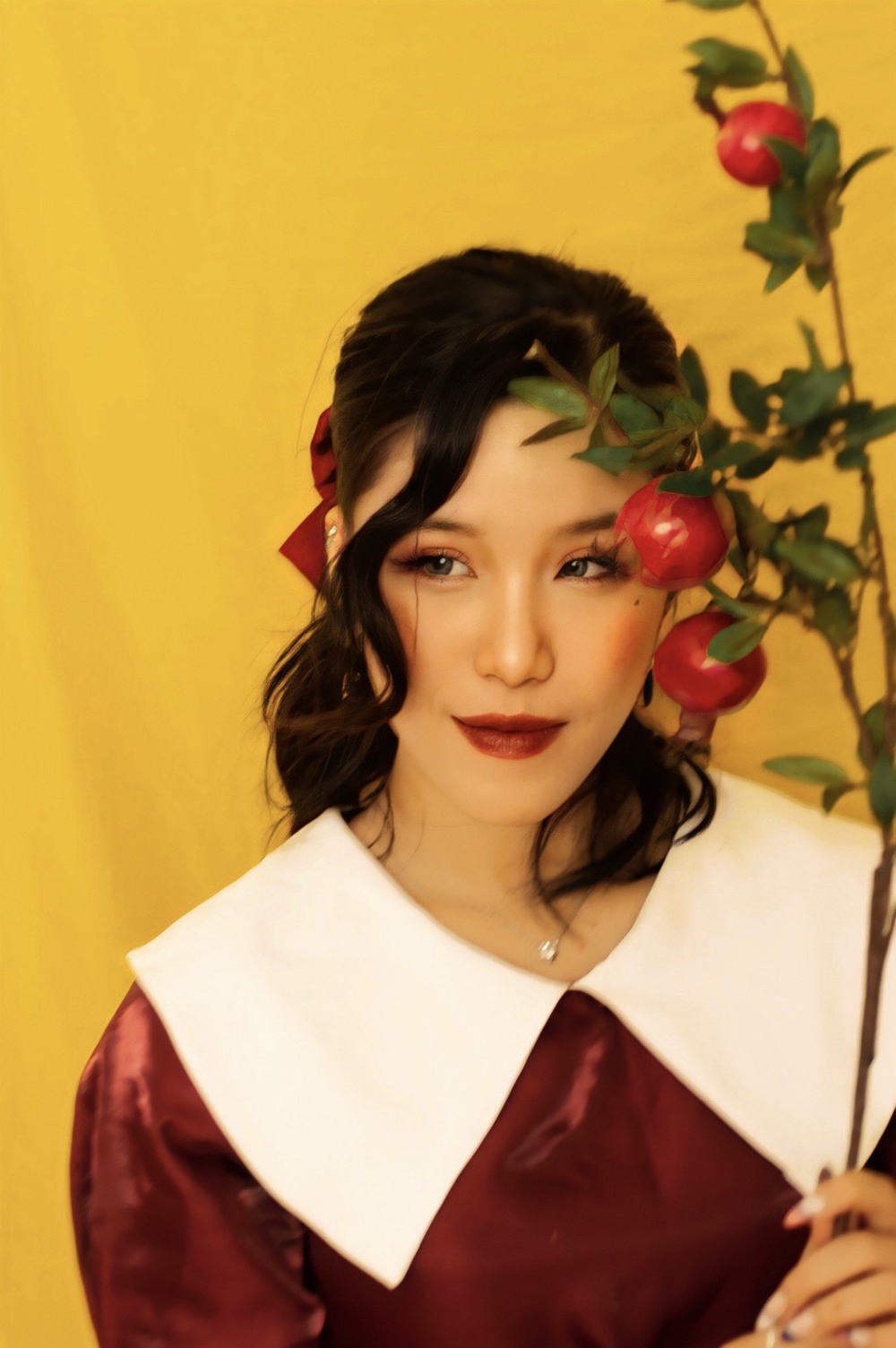 Winning high achievements in dancesport, Linh also keeps a good state of studying (Picture: Self-provided)
Despite becoming a National grandmaster at 17 and preparing for college at the same time, Thùy Linh has a very relaxed attitude. She recounted that since birth, many laughed at her, thinking dancing meant less studying, and would thus be "of no worth"; therefore, she has always tried to prove her all-roundedness since elementary.
Thanks to an arduous and constant studying routine, competing in the entrance exam wasn't beyond her ken. "Since I enrolled in Hanoi - Amsterdam's History class, my parents have let us study by ourselves. They didn't put pressure on me either, and my mom even let me choose my own schools so everything felt comfortable. I got admitted in a total of 9 schools and decided to join Hanoi Law university.
Both competing to keep her grandmaster title and studying for colleges have been prepared by my families, teachers and me for a while so that there won't be backlogs or stress" - Thùy Linh said.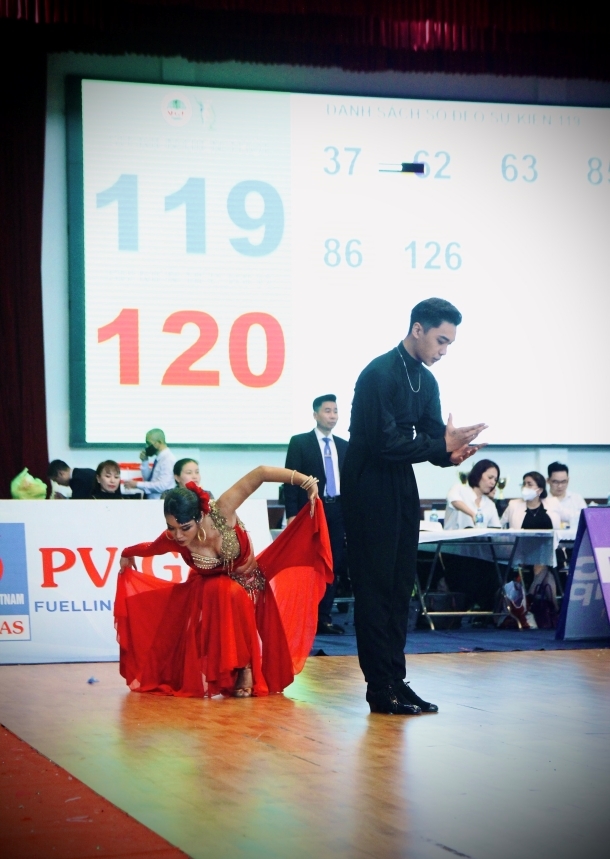 Hiện Linh is currently a Law bachelor of Hanoi Law university (Picture: Self-provided)
Outside dancing, Linh has a TikTok channel with close to 8 thousand followers and over 400 thousand likes. It was informed that Linh made this channel 2 years ago to participate in an activity by Hanoi - Amsterdam High School. Currently, she's using it to spread positive energy, with the hope of being recognized for her 12-year efforts of non-stop fighting. "In me isn't arrogance but pride for what I've accomplished after so much blood, sweat and tears. In addition to that, I also want to increase the public's awareness of dancesport" - the Law student disclosed.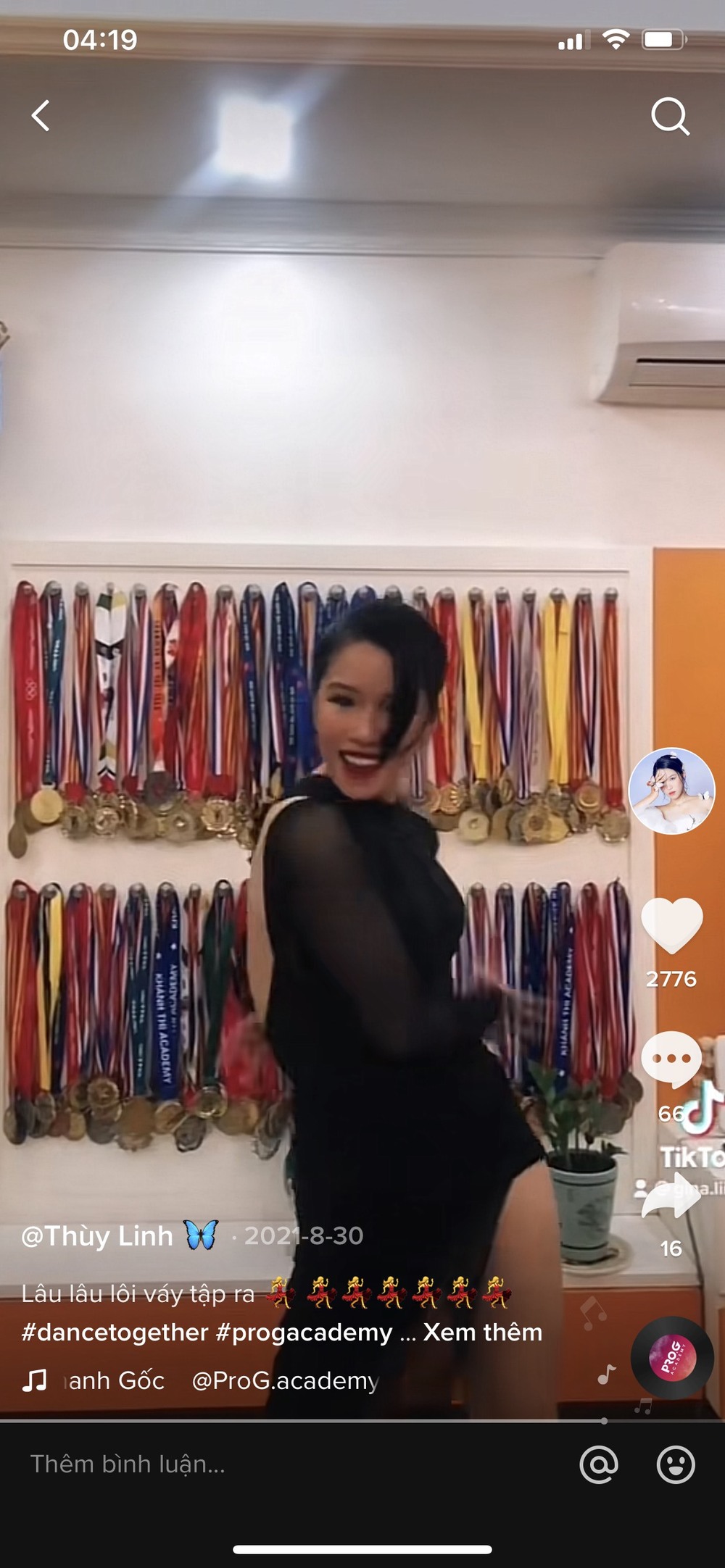 Thùy Linh with her "unquantifiable" number of medals (Screenshot)
In the future, Thùy Linh will continue to study to get a bachelor's degree in Law. At the same time, she will continue training, studying, and competing to keep title as a national grandmaster. Even further down the line, the 2002 girl aims to open a dancesport class for kids to nurture a new generation passionate in dancing. Furthermore, she's also working everyday to do well at the National sports festival in November this year.
According to Sports and Culture
Translator: Duc Lam - English 2023