Hanoi – Amsterdam team narrowly won against Foreign Language Specialized School.
On 9 – 3 – 2012, the opening ceremony of Vietnam-Australian School OPEN, a football tournament including 4 teams: VAS High School, Foreign Language Specialized School, Nguyen Tat Thanh High School and Hà Nội – Amsterdam High School For The Gifted Students was hosted. After this brief ceremony, there came the first match between the host team, VAS and Nguyễn Tất Thành Team. With extreme superiority in all aspects, Nguyễn Tất Thành Team easily hammered VAS 5 – 1.
This was followed by the second match taking place a few minutes later featuring Hanoi – Amsterdam tand Foreign Language Specialized School team.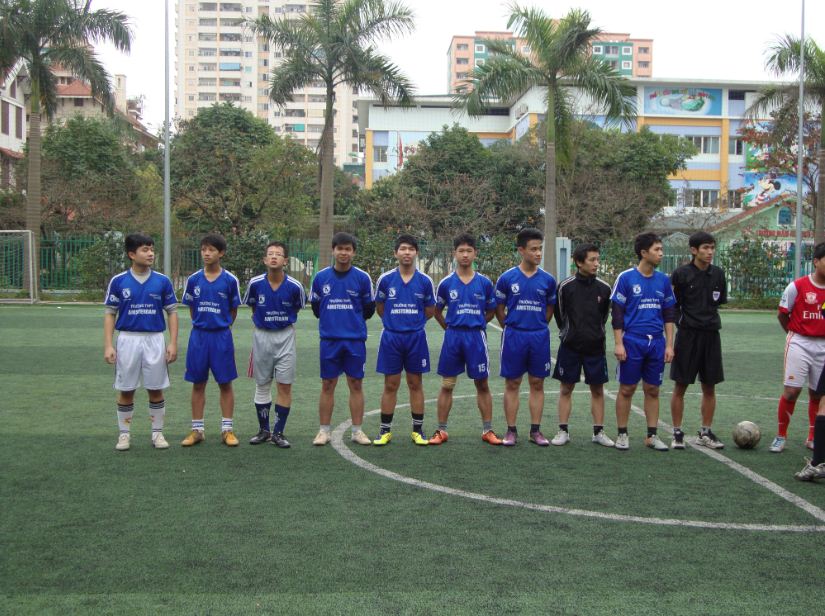 Hanoi-Amsterdam Starting Line-up :
Khôi (number 16 – 10L2), Nhật Sơn (number 3 – 11L2 - Captain), Tuấn Anh (number 15 – 10S), Phan Anh (number 6 – 10L1), Danh Thành (number 10 – 10L2), Thành (number 8 – 12IT), Sơn Tùng (number 7 – 11L2), Khánh (number 14 – 10IT), Minh (number 11 – 11T2).
As the match got underway, the two teams made efforts to gain control of the midfield and the early advantage belonged to Foreign Language Specialized School team. Five minutes later, Foreign Language Specialized School team had a great chance but unfortunately they missed it by striking the ball wide off the post. After that challenge, Hanoi – Amsterdam team gradually got the hold of the ball and threatened the opponent's goal several times, especially Ngoc Khanh's headers. Having failed to make chances pay, Hanoi – Amsterdam team had to pay right away. At the 12th minute, Nhat Son, the captain, made a foul, giving the opponent a free-kick right out of the box. Consequently, the kicker, Quan, #12 of Foreign Language Specialized School, opened the scoreline thanks to a well-placed shot. That the rival got a lead forced Amsterdam to change the tactics by pushing forward aggressively. As a result, many chances were created: 2 strikers Ngoc Khanh and Son Tung continously made powerful shots into the opponents' goal. Unfortunately, these efforts were wasted. 1-0 lead for Foreign Language Specialized School before the break.
From the beginning of the second half, Hanoi-Ams Team made 3 major changes: Trung Dung (Number 12), Nhan (Number 19), Hieu Per (Number 4) came in to replace Phan Anh, Thanh TUT and Son Tung, respectively. In the 4th minute, Duy (number 10 – FLSS) fired a volley shot into the back of Amsterdam's net. FLSS Team led by 2 goals, 2-0. After the second conceded goal, Hanoi Ams tried their best to bounce back but unluckily, in the next 12 minutes, they failed to find the net although Hieu Per's header hit the bar. However, tireless efforts finally paid off. In the 17th minute, due to the rival's mistake in the box, midfielder Danh Thanh came in for the penalty and won a score for Hanoi Ams Team.
Danh Thanh's goal literally got the team back into the game. During the few minutes left plus additional ones, midfielders Mes Minh, Thanh and Tuan Anh tried to get back on level terms. As a result, midfielder Ngoc Khanh succeeded in equalising the scoreline, 2-2, which put the match into a penalty shoot-out to pick out the winner to get through to the final.
Hanoi Ams Team encountered a lot of difficulties since the first two strikes were not successful, and FLSS Team scored two points. But in the hardest time, Amsers displayed tremendous fighting spirit by succeeding 4 consecutive penalties On the other hand, thanks to our keeper's spectacular saves, FLSS Team only scored one goal. All team members burst out to tears after captain Nhat Son stepped in to score the last and crucial penalty, securing a 4-2 victory on penalty shoot-out. Our winning led the team to the final match against Nguyen Tat Thanh High School. Congratulations Amsers!
Translator: Mai Thanh Son